today was a day of awesome food. and actually a ton of exercise, but mostly good food :)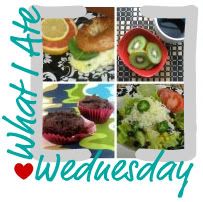 *the WIAW party is closed so i can't link mine up, but i'm still participating!
breakfast was light since connor and i were planning on meeting at this super famous place in hollywood for lunch after dance. i tried to make myself another omelette today, but failed, so it was just a scramble with sauteed spinach, onion and a little bit of cheddar. had with my new pumpkin spice coffee courtesy of mama d!
plus a banana when cravings struck around 10:30.
lunch was at The Griddle Cafe, a place we've been meaning to try for quite some time. basically every item on the menu (aside from the eggs, sandwiches and burgers) is like a dessert. they're only open until 4pm and their specialties are the french toast and pancakes with names like creme de la creme french toast and banana nana pancakes. they're all extremely decadent, indulgent and delicious.
i'm going to be writing for a new blog similar to yelp (details to come soon once my first article is complete!) and in featuring this restaurant, i wanted to order their absolute best dish. i had hear their most famous was the red velvet panCAKE with cream cheese drizzle, but some of the others sounded too good to pass up! the server told us the french toasts were to die for, so connor and i decided to split a red velvet and the peanut bubba french toast dipped in peanut butter and topped with whipped cream.
if those pictures don't make you salivate, i don't know what will. i ate every last bite and boy, was it worth it. even when i felt like i was going to vomit about 5 or 6 times during hot yoga...note to self: do not stuff your face 2 hours before a power yoga class in 100 degree heat. you will feel like you are dying...
...but it's okay! because about 5 hours later you'll just be hungry again and make a very yummy, but healthy dinner of salmon, whole wheat pasta, avocado, lemon juice and onion. more sauteed spinach on the side. i'm sad i finished the bag today :(
and for dessert, since apparently my lunch wasn't enough, a piece of this amazing banana bread.
it's back to work tomorrow, finally, and most likely another yoga class. i think i'm addicted!
xo jordan